Brian Posted on November 07 2023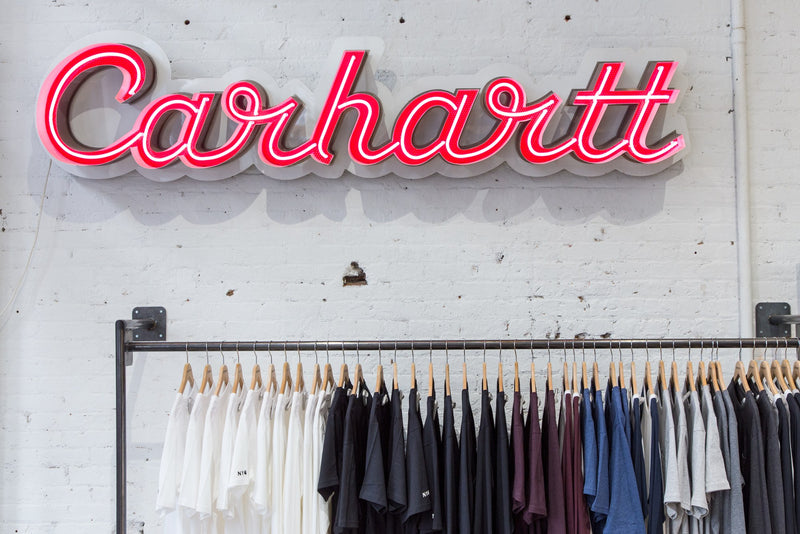 Introduction
In the world of street fashion, trends come and go with lightning speed. However, some brands manage to defy this volatility and secure a lasting place in the hearts and wardrobes of streetwear enthusiasts. Carhartt WIP, a subsidiary of the American workwear giant Carhartt, has been on a steady ascent in the world of streetwear. What makes this label so appealing, and how has it managed to capture the attention of a new generation of fashion-conscious consumers? Let's explore the rise in popularity of Carhartt WIP in this blog post.
Rooted in History
Carhartt, a company with over a century of history, originally specialized in rugged workwear designed for blue-collar workers. Its sturdy and durable garments were built to withstand the harshest conditions, making them a go-to choice for those who demanded reliability. While Carhartt's workwear has always been a staple for laborers and outdoors enthusiasts, Carhartt WIP (Work In Progress) has successfully adapted these timeless styles for the modern streetwear scene.
The Transformation
Carhartt WIP was established in 1994 in Europe, with the aim of reinterpreting Carhartt's classic workwear into a more fashion-forward and streetwear-friendly line. By tweaking fits, fabrics, and designs, the brand successfully bridged the gap between utilitarian workwear and contemporary style.
One of the first key elements in Carhartt WIP's transformation was its attention to detail. The brand started experimenting with colors, patterns, and materials, adding a sense of fashion-consciousness to its functional pieces. The iconic Carhartt brown duck canvas was reimagined in a variety of shades, and traditional workwear silhouettes were refined to provide a more stylish and comfortable fit.
Collaborations and Limited Editions
Collaborations have played a significant role in boosting the popularity of Carhartt WIP. The brand has teamed up with renowned streetwear and fashion labels like Supreme, A.P.C., and Converse, creating limited-edition collections that drew attention from a wide range of consumers. These collaborations introduced Carhartt WIP to a new audience while maintaining the brand's street cred among longtime fans.
Innovation in Design
Carhartt WIP is not content with resting on its laurels. The brand continues to push the boundaries of design and functionality. From contemporary outerwear to street-ready accessories, Carhartt WIP consistently introduces fresh and innovative pieces that keep the brand relevant in a rapidly evolving streetwear landscape.
Global Reach
One of the factors contributing to the rise in Carhartt WIP's popularity is its global presence. With flagship stores in major fashion capitals like London, New York, and Tokyo, as well as a strong online presence, the brand has made its products accessible to enthusiasts all around the world.
Celebrity Endorsements
The support of celebrities and influencers has also played a vital role in elevating Carhartt WIP's status. Icons in the music, fashion, and entertainment industries have been spotted wearing the label, solidifying its place in pop culture.
Conclusion
Carhartt WIP's rise in popularity can be attributed to a combination of factors: its rich heritage, dedication to design innovation, successful collaborations, and global reach. The brand's ability to blend function with fashion has resonated with a new generation of streetwear enthusiasts, while maintaining its authenticity and respect for its workwear roots. With Carhartt WIP's continued commitment to pushing the boundaries of streetwear, it's clear that this label's popularity is set to endure.